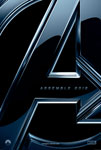 Our friends over at Yahoo! Movies and Moviefone have posted the new character banners for the upcoming Walt Disney Pictures and Marvel Studios super hero team up film The Avengers.  Directed by Joss Whedon and starring Robert Downey Jr., Samuel L. Jackson, Chris Hemsworth, Chris Evans, Jeremy Renner, Scarlett Johansson, Mark Ruffalo and Tom Hiddleston.  Here is a brief plot synopsis for the film from Yahoo! Movies:
When an unexpected enemy emerges that threatens global safety and security, Nick Fury, Director of the international peacekeeping agency known as S.H.I.E.L.D., finds himself in need of a team to pull the world back from the brink of disaster. Spanning the globe, a daring recruitment effort begins.
This is the film all of us comic book fans have been waiting for.  In these new banners we get to see all of the Heroes (and the villain Loki) for the film.  I wish they would have shown the Hulk, but I guess I'll have to settle for puny Banner for now.  Click below for the full size versions of each banner.  The Avengers Assemble on May 4, 2012!